【Top Trend Resources Limited】專責處理【小美工作室】的海外業務,如香港境外的活動 / 商演 / 演唱會 / 電影等邀請,與【小美工作室】雙行並濟,共同致力拓展演藝業務。
---
【Top Trend Resources Limited】专责处理【小美工作室】的海外业务,如香港境外的活动/商演/演唱会/电影等工作安排,与【小美工作室】双行并济,共同致力拓展演艺业务。

【Top Trend Resources Limited】是一家成立于1998年的海外管理公司,重点拓展的业务专注于活动管理、艺人管理,同时在演艺项目生产工作方面也非常有经验,包括制作大型演唱会、展览、摄制各类型的电影项目,极具专业的组织能力。
活动策划及管理
本公司曾成功地策划及举办了不同范畴的活动,例如大型演唱会、音乐会、娱乐/影视、赞助和广告拍摄。在香港红磡体育馆举行超过200场的《郭富城世界巡回演唱会》。更组织并带领超过500多人的制作工程人员(郭富城团队)在内地、台湾、新加坡、马来西亚、美加、澳门等地举办演唱会,备受关注。
郭富城《舞林正传世界巡回演唱会2007》
本公司于2007年制作"舞林正传演唱会"所特别打造的『450〫旋转舞台』,更一举震撼世界,不但入选了吉尼斯世界纪录大全,成为全球最大的旋转舞台,成为舞台界瞩目之举。本公司不断接获各地邀请,举行了多场郭富城世界巡回演唱会。
郭富城《舞临盛宴世界巡回演唱会2012》
2012年,本公司斥资2000万港元的"变形舞台"再次创造历史,这个舞台可变化出8种不同的形状,并配备了21台升降机的结构。整个"变形舞台"由设计筹备至完成历时超过九个月,团队深入研究及涉及来自多个国家的材料配件,正式公演时,绝对震撼舞台,被媒体评为年度経典制作,更被誉为提高了业界制作演唱会的新高度。
世界巡回演唱会年表
◆1998-2004 郭富城 Live on Stage 演唱会
(美国/加拿大/澳洲/星加坡/中国/大阪/东京/横滨/LA/洛杉矶/三渖市)
◆2005-2006 郭富城 飞越舞林演唱会
(美国大西洋城/加拿大多伦多/温哥华/云顶/顺德)
◆2008-2011 郭富城舞林正传演唱会
(康州/三渖市/多伦多/星加坡/澳门/台湾/上海/北京/广州/杭州/佛山/洛阳/长沙)
◆2012-2015 郭富城舞临盛宴世界巡回演唱会
(伦敦/星加坡/马来西亚/台北/澳门/深圳/广州)
◆2016-2020 郭富城舞林密码世界巡回演唱会
(香港/广州/武汉/南京/绍兴/澳门/深圳/上海/北京/徐州/珠海/湛江/台北/拉斯韦加斯/康州)
电影项目
公司除了发展郭富城舞台事业的同时,亦全力安排郭富城参与各式片种电影的拍摄工作。自2002年开始,郭富城更意决加大力度成为一个多元化的演员,演出作品超过70部。包括2004《三岔口》及2005《父子》令郭富城连续两年荣获金马影帝奖誉。之后一直全情投入电影拍摄工作,包括:《杀人犯》、《C+侦探》、《风云2》、《全城戒备》、《最爱》、《全民目击》、《道士下山》、《寒战》系列、《密战》、《破局》、《天亮之前》、《西游记》系列、《麦路人》、《无双》、《秘密访客》等。而静候公映作品还有《断网》、《风再起时》、《扫毒3》、《临时械劫》、《六月的秘密》等。
慈善活动
除了演艺工作,本公司及其艺人郭富城亦不忘参与各类慈善项目,回馈社会。郭富城于2000年成立《郭富城国际关爱慈善基金》,主旨帮助弱势社群、支持助学及改善老人福利。2020年,因应疫情厳峻,郭富城率先以【郭富城国际关爱慈善基金】名义,举办一场网上慈善演唱会,为专业舞蹈员及电影幕后基层工作者,筹募一些抗疫经费,以作支持,希望可以一解相关人士生活上燃眉之急。 同时于2022年,亦参与《爱互送》大型物资捐赠行动,支持并捐助超过30,000件应援物品包括口罩、检测包、搓手液等,相关机构把物资直接捐赠到基层手上,并为疫情下的基层市民打气。
最近影视项目
于2022年,本公司将筹组不同形式的影视项目,以作重点发展,并锐意同步支持年青导演及有实力的资深导演拍摄个人梦想作品。其中包括讲及父爱如山的《六月的秘密》、还有讲及一个有闪回能力的干探题材的电影《默子侦探》等。至于拍摄中的作品包括麦兆辉导演的《内幕》。
---
【Top Trend Resources Limited】is an Overseas Management Company launched in 1998. Our business specializes in Event Management, Artiste Management. We are also very experienced, well-organized and familiar in Production work.
Artiste Management
Our Company acts as the sole and exclusive agent or manger of the artiste on all aspects of Global incorporations and entertainment activities, including Overseas Functions, Movies, Concerts, Commercials and Shows.
Event Organization and Management
We successfully organize and produce a broad range of events such as Music Concerts, Entertainment, Sponsor and TVC Shooting. In addition to all 17 performances of "Aaron Kwok De Showy Masquerade World Tour Concert 2011" at the Hong Kong Coliseum, Top Trend Resources Ltd. has also organized and led more than 200 people (the Aaron Kwok Team) for concerts in Taiwan, Singapore and Macao.
Music Concerts: Aaron Kwok De Showy Masquerade World Tour 2012
In 2012, we are making history once again with the HK$12 million 'Transformer' stage. This stage morphs into eight different shapes and comes equipped with 21 lifting mechanisms. The entire 'Transformer' stage took nine months to complete due to intensive research and waiting for materials to be shipped in from several countries.

As the stage contains more lifting mechanisms than any other stage in the world, our production team spent endless hours learning and mastering technical improvement and adaptation as the stage had to be moved from Hong Kong to other countries. Additionally, the stage has the potential to produce six trampolines of different sizes – all transformed from the bottom of the stage, allowing Aaron and his dancers to somersault from one trampoline to another. Without a doubt, De Showy Masquerade World Tour Concert and all the work involved in this concert defines a new chapter in the history of stage performances and stage production.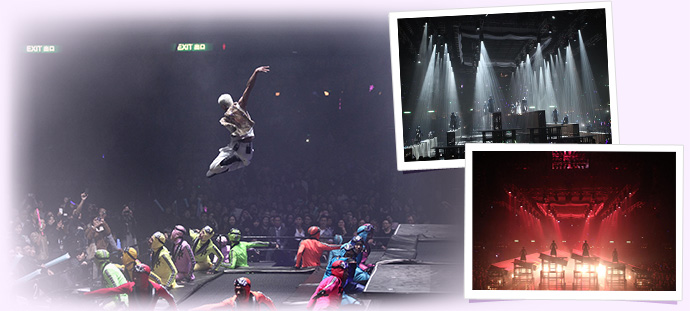 Music Concerts: Aaron Kwok De Show Reel World Tour 2008
Aaron Kwok's 2008 concert was recognized by the Guinness World Records for having the largest indoor revolving stage ever.
(2008 Stage 1) (2008 Cert)
Achievement - Overseas Concerts
2015
Aaron Kwok De showy Masquerade World Tour 2015
(Macau Station) [Show Date: 7 November 2015]
2015
Aaron Kwok De showy Masquerade World Tour 2015
(Singapore Station) [Show Date: 30-31 October 2015]
2015
Aaron Kwok De showy Masquerade World Tour 2015
(Malaysia Station) [Show Date: 10-11 April 2015]
2014
Aaron Kwok De showy Masquerade World Tour 2014
(London Station) [Show Date: 27 October 2014]
2013
Aaron Kwok De showy Masquerade World Tour 2013
(Guangzhou Station) [Show Date: 29 December 2013]
2013
Aaron Kwok De showy Masquerade World Tour 2013
(Shenzhen Station) [Show Date: 7 December 2013]
1998
Aaron Kwok Live on Stage World Tour in USA / Canada 98
1999
Aaron Kwok Live on Stage World Tour in Australia 99
2000
Aaron Kwok Live on Stage World Tour USA 00
2001
Aaron Kwok Live on Stage World Tour in Singapore 00
2001
Aaron Kwok Live Concert Tour at Genting 01
2001
Aaron Kwok Live Concert Tour at Toronto 01
2001
Aaron Kwok Live On Stage 2001 China
2002
Aaron Kwok Live on Stage World Tour in Japan (Osaka, Tokyo & Yokohama)
2002
Aaron Kwok Live on Stage World Tour in LA & San Francisco 02
2002
Aaron Kwok Live on Stage World Tour in Singapore / Malaysia 02
2004
Aaron Kwok Live Concert Tour at Genting 04
2005
Aaron Kwok Mega Hits Live in Concert in Atlantic City US 05 
[Show Date: 17 July 2005]  
2005
Aaron Kwok Mega Hits Live in Concert in Vancouver, Canada 05 
[Show Date: 22 July 2005]   (Queen Elizabeth Theatre)
2005
Aaron Kwok Mega Hits Live in Concert in Toronto, Canada 05 
[Show Date: 24 July 2005]   (Casino Rama Entertainment Centre)
2006
Aaron Kwok Mega Hits Live in Concert in Atlantic City Part II US 06
[Show Date: 26 Feb 2006]
2006
Aaron Kwok Mega Hits Live in Concert in Shunde, China 06 (順德)
[Show Date: 3 June 2006]
2007
Aaron Kwok Mega Hits Live in Concert in Toronto 07
[Show Date: 21 May 2007]
2007
Aaron Kwok Mega Hits Live in Concert in Las Vegas 07
[Show Date: 27 May 2007]
2007
Aaron Kwok Dancing Nation Live in Concert in Singapore 07
[Show Date: 1 Sept 2007]
2007
Aaron Kwok Dancing Nation Live in Concert in Pingxiang, China 07 (平鄉) 
[Show Date: 22 Sept 2007]
2007
Aaron Kwok Dancing Nation Live in Concert in Toronto 07 
[Show Date: 21 May 2007]   (Casino Rama Entertainment Centre)
2007
Aaron Kwok Dancing Nation Live in Concert in Vancouver 07
[Show Date: 19 December 2007]
2007
Aaron Kwok Dancing Nation Live in Concert in Connecticut US 07 
[Show Date: 22-23 December 2007]   (Mohegan Sun Arena)
2008
Aaron Kwok De Show Reel World Tour Live in Macau 08
[Show Date: 30 August 2008]
2008
Aaron Kwok De Show Reel World Tour Live in Foshan 08 
[Show Date: 20 September 2008]
2008
Aaron Kwok De Show Reel World Tour Live in Shanghai 08 
[Show Date: 18 October 2008]
2008
Aaron Kwok De Show Reel World Tour Live in Taiwan 08
[Show Date: 13-14 December 2008]
2009
Aaron Kwok De Show Reel World Tour Live in Guangzhou 09
[Show Date: 03 January 2009]
2009
Aaron Kwok De Show Reel World Tour Live in Singapore 09
[Show Date: 30 May 2009]
2009
Aaron Kwok De Show Reel World Tour Live in Taiwan 09
[Show Date: 1-2 August 2009]
2009
Aaron Kwok De Show Reel World Tour Live in Hangzhou, China 09
[Show Date: 7 November 2009]
2009
Aaron Kwok De Show Reel World Tour Live in Connecticut US 09
[Show Date: 20 December 2009]   (Mohegan Sun Arena) 
2010
Aaron Kwok De Show Reel World Tour Live in Las Vegas 10
[Show Date: 2-3 April 2010]   (Wynn Encore Theatre)
2010
Aaron Kwok De Show Reel World Tour Live in Toronto 10
[Show Date: 6 April 2010]   (Casino Rama Entertainment Centre) 
2010
Aaron Kwok De Show Reel World Tour Live in Singapore 10
[Show Date: 7 May 2010]
2010
Aaron Kwok De Show Reel World Tour Live in Luoyang, China 10 (洛陽)
[Show Date: 9 October 2010]
2011
Aaron Kwok De Show Reel World Tour Live in Shanghai 11
[Show Date: 16 April 2011]
2011
Aaron Kwok De Show Reel World Tour Live in Beijing 11
[Show Date: 27-28 May 2011]
2011
Aaron Kwok De Show Reel World Tour Live in Changsha, China 11 (長沙)
[Show Date: 17 September 2011]
2012
Aaron Kwok de Showy Masquerade World Tour Live in Concert 2012
(Taipei Station)   [Show Date: 11-12 August 2012]
2012
Aaron Kwok de Showy Masquerade World Tour Live in Concert 2012
(Singapore Station)  [Show Date: 06 September 2012]
2012
Aaron Kwok de Showy Masquerade World Tour Live in Concert 2012
(Macao Station)  [Show Date: 29-30 September 2012]